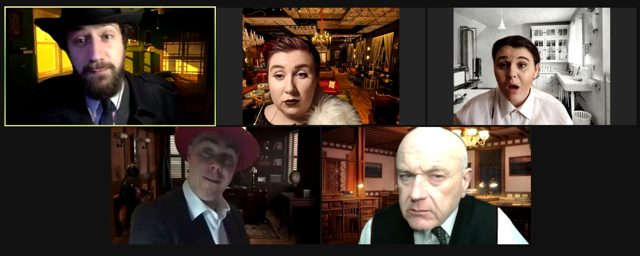 Zoom Events For Large Groups
We have successfully run one Zoom event for 250 people. It is a different experience to a smaller show, and fewer of the audience will ask questions. However, it is still engaging and it is a very cost effective solution.
The alternative to one large event is to run several shows over the course of the day or to run several shows at the same time. We have enough leaders and actors on hand to be able to do this.
Zoom Murder Mystery Using Breakout Rooms
With large groups we use breakout rooms, so 200 people might start in the main room before joining 5 breakout rooms to become smaller groups of 40, or even 10 breakout rooms to create teams of 10. Everyone then gathers for the grand finale in the main room.
Whatever your group size we have the experience and the ability to deliver an entertaining and memorable show for a larger group.
Contact us to discuss your event further.
Zoom Large Groups